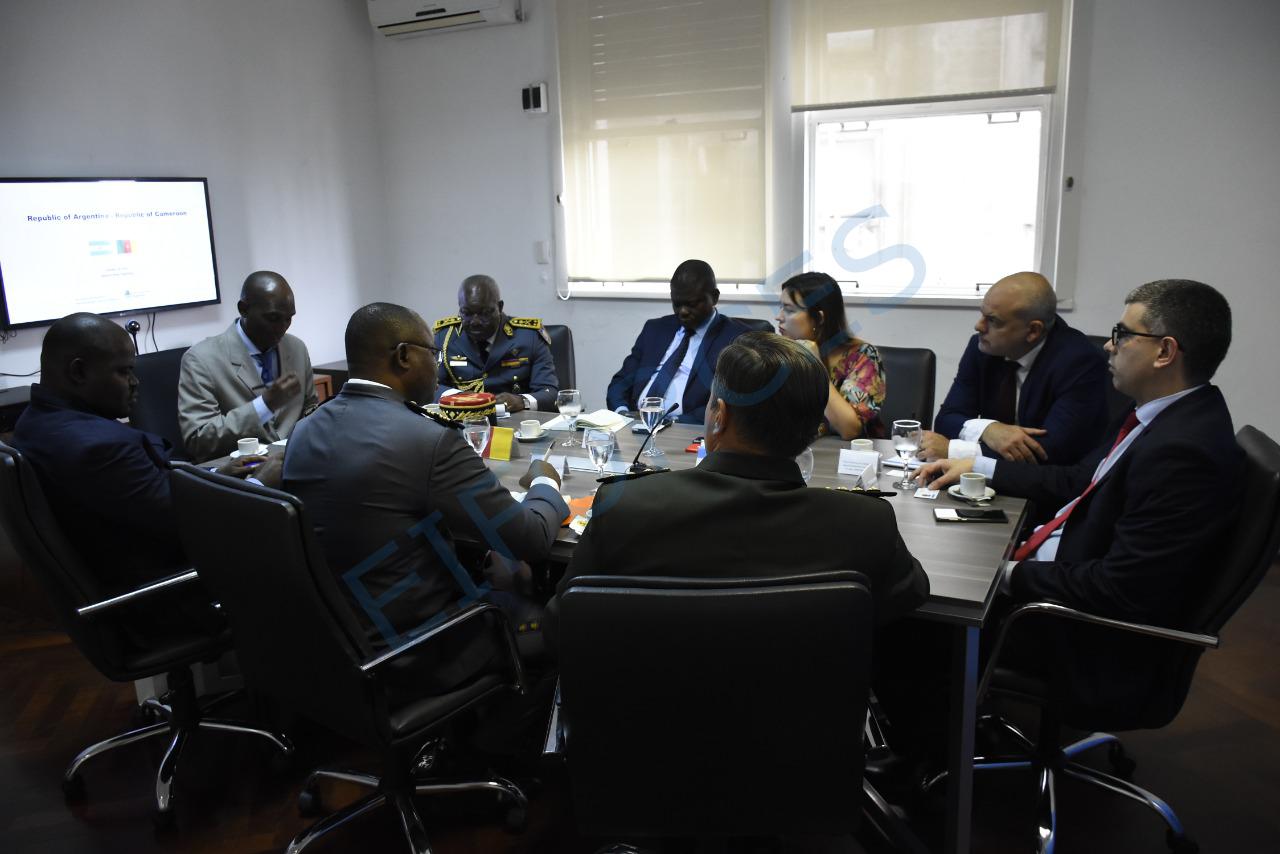 On the third day of its working visit to Argentina, the EIFORCES Delegation was granted audience at the Ministry of Defence. The agenda focused on examining possible avenues for cooperation between CAECOPAZ and EIFORCES.
The talks were led by Mr Diego Rafaél MAZZOCCONE, Under-Secretary for International Relations at the Secretariat for International Defence Cooperation at the Ministry of Defence, assisted by Dr Juan Lopez CHORNE and Ms Georgina DI GIOVANNI, respectively National Director of Cooperation for Peacekeeping Operations and Director of Bilateral and Multilateral Relations, as well as Colonel FILIPPINI, Director of CAECOPAZ.
On the Cameroonian side, Brigadier General André Patrice BITOTE, Director General of EIFORCES, was assisted by Colonel Fiacre Kisito ATANGANA, Director of Studies, Mr Germain Colet ALOUGOU MANY, Head of Cooperation and Public Relations Division, Mr Jacques Bertrand MENGUE MOLI, Head of the Argentina Office at the Ministry of External Relations, and Mr Victor BILLE, Honorary Consul of Cameroon to Argentina.
The Argentine officials outlined the principles governing Argentine foreign policy and structuring the country's involvement on the international scene. These include multilateral cooperation, South-South cooperation, defence of Argentina's territorial integrity, international peace and security.
Taking the floor, the Director General of EIFORCES addressed participants, identifying the major axes likely to structure the partnership between EIFORCES and CAECOPAZ. These revolve around the mission of training and drilling on peacekeeping assigned to the two institutions. To this end, the central matrix of this partnership would be, on the one hand, the long experience of CAECOPAZ in the training of journalists to be deployed in the fields of operations and in the area of landmines and IEDs, and on the other hand, the exchange of experts and trainees, the conduct of face-to-face and/or distance learning courses, and getting CAECOPAZ acquainted with the realities of the African terrain, a continent where most PKOs are currently deployed.
The parties agreed on the need to provide the impetus required to design a general cooperation framework between the two countries, stressing the fact that it the primary responsibility of the Cameroonian and Argentine Ministries of Defence to provide this impetus, in collaboration with those in charge of Foreign Affairs. Without further ado, the Argentine focal points for the technical aspects of this project were appointed and the friendly consultation rounded off with the hope that this partnership project would be concluded as soon as possible./-